Remini vs EnhanceFox: A Comparison of AI-Powered Image Enhancement Tools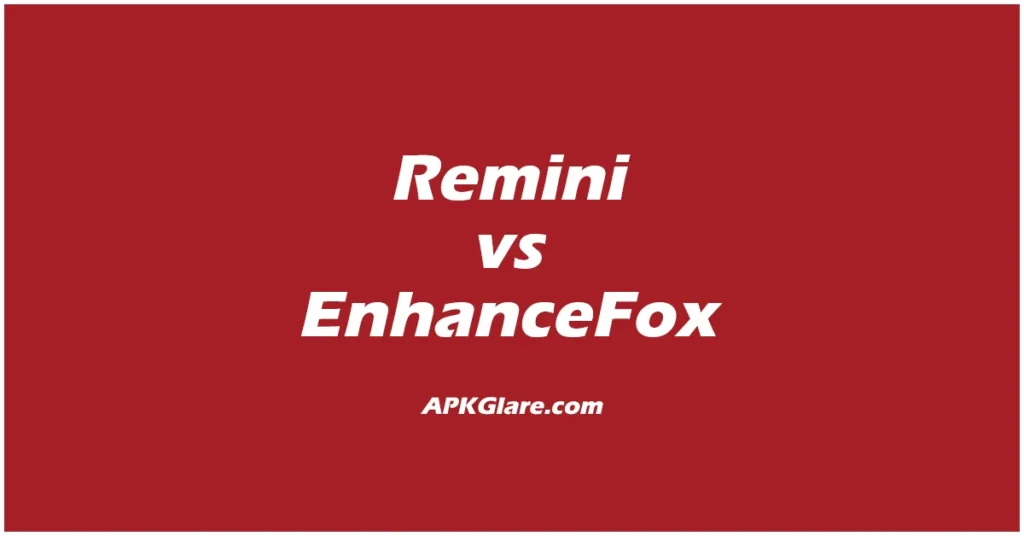 This article compares two prominent AI-powered image improvement tools: Remini and EnhanceFox. In this talk, we will look at the similarities, differences, and characteristics of these two software systems. Remini and EnhanceFox provide fascinating possibilities, whether you are an amateur photographer, a social media enthusiast, or someone who simply wants to increase the quality of their photographs. Join us as we explore the world of picture-enhancing programs to determine which one is most suited to your needs. Let's compare Remini and EnhanceFox and discover how these tools may improve your images.
Feature Comparison
Features
Remini
EnhanceFox
Image Restoration
Specializes in restoring old or low-quality images
Focuses on overall enhancement and resolution improvement
Enhancement Algorithms
AI-powered algorithms for detail and quality enhancement
AI-powered algorithms for resolution and color enhancement
User Interface
User-friendly interface with a straightforward process
Intuitive interface with batch processing and comparison features
Target Audience
Ideal for users seeking to revive old family photos or improve low-quality images
Suitable for social media enthusiasts, photographers, and content creators aiming for vibrant and professional visuals
Pricing Plans
A free version is available with limited functionality.
Premium subscriptions for advanced features
version is available with limited functionality.
Premium subscriptions for advanced features
Remini vs EnhanceFox
Both Remini and EnhanceFox are artificial intelligence-powered image improvement apps that use powerful algorithms to improve the quality, clarity, and overall appeal of your images. These tools are intended to assist users in improving the details, colors, and sharpness of their photographs with a few simple clicks.
When it comes to Remini, this software is well-known for its capacity to improve aged, fuzzy, or low-resolution photographs. It analyzes the image with AI technology and makes smart changes to recover lost details and increase overall quality. Users who want to resuscitate ancient family photos or increase the sharpness of images recorded in poor lighting conditions frequently prefer Remini.
EnhanceFox, on the other hand, has its own set of distinct qualities. This application focuses on improving image resolution, decreasing noise, and enriching colors to make your photos look more lively and professional. EnhanceFox is popular among social media specialists, photographers, and content creators who wish to improve and distinguish their visual content in the digital realm.
While both Remini and EnhanceFox strive to improve photographs, there are some distinctions to be made. Remini was created primarily for image restoration and works extremely well with outdated or low-quality photographs. EnhanceFox, on the other hand, focuses on image enhancement in general, resolution improvement, and color enhancement. It is designed for people who want to elevate their photography to the next level, with a focus on clarity, sharpness, and colorful visuals.
Remini provides a user-friendly interface with a simple approach in terms of user experience. Remini has a lil bit difficult user interface in remini for ios. Users only need to upload their photographs and let the AI algorithms handle the rest. EnhanceFox also has an easy-to-use user interface and other capabilities like batch processing and before-and-after image comparisons, allowing users to effortlessly enhance many photographs at once and review the results.
FAQs
Conclusion
Remini and EnhanceFox are two AI-powered image improvement apps that can breathe new life into your photographs. EnhanceFox focuses on general enhancement, resolution improvement, and color enhancement, whereas Remini specializes in repairing ancient or low-quality photos. You may easily improve the quality and appeal of your photographs by employing these tools, resulting in aesthetically beautiful outcomes. Remini and EnhanceFox offer fascinating options to enhance your images, whether you're a casual user, a photography hobbyist, or a professional content developer.