Remini vs Fotor – Battle of the Photo Editing Titans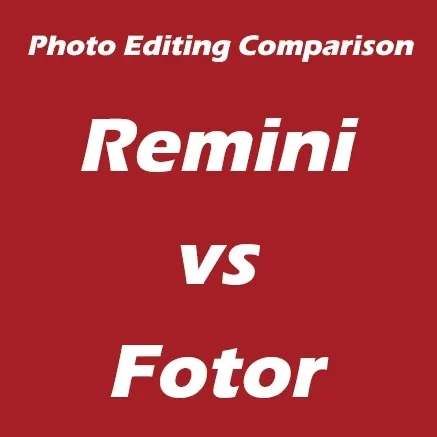 These days, photo editing programs are a must-have for everyone who wants to make the most of their digital photos. Having the correct app can make all the difference when trying to recover old images, perfect selfies, or express your artistic ideas. In this piece, we'll go into the photo-editing app market and see how Remini and Fotor stack up against one another.
Both applications include a wide variety of enhancements to help you take better photos. Our goal in comparing these two editing apps is to help you make an educated decision about which one to choose. Let's dive in and learn about Remini vs Fotor so you can use them to their fullest potential.
Remini vs Fotor Features Comparison Table
| Features | Remini | Fotor |
| --- | --- | --- |
| AI Pgoto Enhancement | Utilizes advanced algorithms to enhance image quality, restore details, and reduce blur | Includes the standard exposure, contrast, and saturation controls for improving photos. |
| Editing Tools | Limited editing options, with a focus on automatic enhancements and restoration | Comprehensive editing suite with a wide range of tools, including filters, cropping, retouching, and text overlays |
| Filters and Effects | Provides a moderate selection of artistic filters and effects | Provides access to a wide variety of editing tools, including filters, effects, and preset styles |
| Collage Maker | Lacks a built-in collage maker feature | Includes a versatile collage maker with customizable templates and layouts |
| Batch Editing | Allows batch enhancement of multiple photos simultaneously | Supports batch editing for efficient processing of multiple images |
| User Interface | User-friendly interface with a simple and intuitive layout | Features a sleek and modern interface with organized tools and menus |
| Pricing | Provides a free version with restricted functionality as well as a premium subscription for complete access. | Provides a free version with ads and watermarked images, as well as a premium version for an ad-free experience and additional features |
Remini or Fotor – Which is better?
You should think about and compare these options in light of your individual editing needs and preferences. Evaluate the user interface, editing tools, filters and effects, AI restoration technology, pricing, and additional features to determine whether Remini or Fotor better meets your photo editing needs, whether those needs center on AI photo enhancement, comprehensive editing tools, or the ability to create collages.
Make a collage
Fotor is the best app for making collages. Fotor has a collage maker with numerous editable layouts and templates. Collages can be quickly and easily made by dragging and dropping the user's photographs into the available templates, then altering the spacing or adding text. Unfortunately, Remini does not have a collage maker built in, instead focused on photo editing and restoration.
Batch-Edit
When processing many photographs at once, speed is of the essence. The batch editing function in Remini allows users to improve numerous images simultaneously. When dealing with enormous image collections, this can be a huge time saver. With Fotor's batch editing capabilities, you may quickly and easily modify many images with the same settings.
Interaction with Others
Both Remini and Fotor make it easy to share your modified photographs on social media sites. By seamlessly integrating with the most prominent social media sites, Remini makes it simple to show off your edited photographs to the world. Sharing your finalized photos is a breeze thanks to Fotor's built-in social network sharing features.
Remini:
Pros:
AI-based picture editing tools are very powerful.
Effective at fixing and sharpening pictures that are blurry or have low resolution.
Multiple photos can be improved at the same time with the batch editing tool.
Integration with well-known social media sites makes it easy to share.
Cons:
To get full access, you have to pay for a premium membership.
Doesn't have a picture maker built in.
When working with very big files, performance may be slowed down.
Fotor:
Pros:
It's an all-inclusive editor with numerous high-end options.
A huge number of filters, effects, and pre-set styles can be used to make creative changes.
Versatile collage maker with templates and styles that you can change.
It lets you edit multiple photos at once and process them quickly.
Integration with different social media sites makes it easy to share.
Cons:
Beginners may find the layout too complicated and crowded.
AI-based tools for fixing and improving photos are not as good as Remini.
The free version has ads and pictures with watermarks, so you have to buy the paid version to get rid of the ads.
Some complicated editing tools may take some time to get used to.
There are limits on file size and resolution for very big files.
FAQs
Conclusion
Remini and Fotor are two popular picture editing programs that each have their own set of abilities and features. Both apps offer simple user interfaces and social network integration for easy sharing. Finally, the decision between Remini and Fotor comes down to your personal editing needs and tastes. Consider AI restoration, editing tools, filters, collage-making, and cost to choose which software best meets your needs.