The Ultimate Showdown: Remini vs. Topaz – Unveiling the Battle of AI Image Enhancement!
Welcome to this overview of the duel between two outstanding image enhancement software programs, Remini vs. Topaz. We frequently come across images that are old, damaged, or of low quality in today's digital environment. Fortunately, with technological advances, we can now access applications such as Remini and Topaz that can breathe new life into these photographs.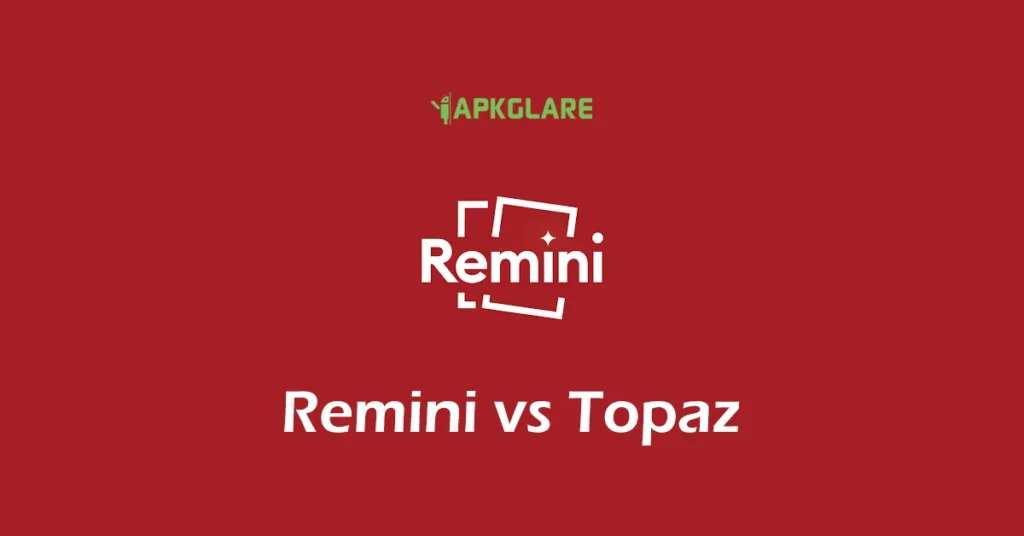 Both Remini and Topaz are noted for their capacity to improve the quality of images, although they do so in distinct ways. This essay will compare and contrast Remini and Topaz, highlighting their distinct features and capabilities. So, let's look at Remini vs. Topaz and see which tool reigns supreme in picture enhancement.
Remini vs Topaz: Which is Better?
Remini and Topaz are two popular challengers with impressive capabilities in picture-enhancing apps. Whether your photos are old, damaged, or of poor quality, Remini and Topaz guarantee to bring out the best in them; however, various criteria must be considered while evaluating which tool is superior.
Difference Between Remini Ai and Topaz Photo Ai
Remini's AI-powered image restoration and enhancement technologies set it apart. It analyzes and reconstructs images using deep learning technology, resulting in astonishing clarity, sharpness, and overall quality increases. You can use Remini to restore faded colors, minimize noise, and even recover missing elements in your photos.
Aspect
Remini
Topaz
Image Enhancement
AI-powered restoration and enhancement
Advanced editing tools and algorithms
Ease of Use
User-friendly interface, automated process
Feature-rich interface, the learning curve for beginners
Output Quality
Significant improvements in clarity, sharpness, and color
Professional-quality results with customization
Professional-quality results with customization
Platforms
Mobile (iOS, Android)
Desktop (Windows, Mac OS)
Pricing Model
Free with limited features, premium membership for unlimited access
Individual licenses, bundle deals, occasional subscriptions
Availability
Available on app stores (iOS, Android)
Available on the official website
Updates
Regular updates and new features
Regular updates and software enhancements
Target Audience
Users seeking quick image enhancement and restoration
Users requiring advanced enhancements
Output Limitations
Limited resolution and watermarked images in the free version
Dependent on user expertise and adjustments
Support
Online support, FAQs, and community forums
Online support, documentation, and tutorials
Conversely, Topaz features excellent image processing techniques and various editing tools. It has many features, such as noise reduction, sharpening, color correction, and texture enhancement. Topaz is well-known for its versatility, allowing users to fine-tune their photographs to their liking and create professional-looking results.
Features Comparison
Ease of Use
Remini and Topaz have different user interfaces and overall user experiences regarding simplicity of use.
Remini
Remini was created with ease of use in mind. The software offers a straightforward interface that requires little in the way of technical knowledge to use. Remini's image enhancement technique is automatic, requiring little user input. Users simply upload photos to the app, and Remini's AI algorithms handle the rest. This simplified approach ensures a stress-free experience, particularly for individuals who prefer a hands-off approach to image enhancement.
Topaz
Conversely, Topaz provides a more feature-rich experience that may necessitate a steeper learning curve for novices. The software has a robust collection of editing tools that allow users to fine-tune many aspects of their photographs. While this customization is useful for sophisticated users or professionals, it may be too much for people looking for an easier solution. However, Topaz's editing capabilities provide intuitive controls and user-friendly interfaces, making the task more doable once users become acquainted with the application.
Remini leads the way regarding overall usability, simplicity, and accessibility. Because of its straightforward interface and automatic editing process, it's a great tool for folks who need to make frequent but little adjustments.
Quality of Output
When it comes to picture enhancement and restoration, both Remini and Topaz try to offer stunning results. However, their methodologies and the results they create differ slightly.
Remini
Remini analyzes and reconstructs images using powerful deep-learning methods. It focuses on image restoration, specifically boosting clarity, sharpness, and quality. Remini's AI technology can efficiently recover faded colors, minimize noise, and restore missing image features. Remini's automated approach provides consistent results, making it a dependable option for upgrading old or damaged photographs.
Topaz
Topaz, on the other hand, provides an extensive set of editing tools that enable users to fine-tune many parts of their photographs. It has powerful noise reduction, sharpening, color correction, and texture enhancement techniques. Users have more control over the editing process using Topaz, allowing them to generate professional-quality images based on their preferences and artistic vision.
Remini excels at restoring and enhancing outdated or damaged photos in terms of overall quality. Its AI-powered algorithms frequently produce noticeable increases in clarity, sharpness, and color accuracy. Topaz, on On the other hand, it provides a vast range of editing tools that can produce stunning results with proper modifications and user experience.
Pricing and Availability
There are a few crucial aspects to consider regarding the pricing and availability of Remini and Topaz.
Remini
Remini is a mobile application that is accessible for both iOS and Android devices. Remini Mod for iOS provides some extra perks of Ai photo and video editing. The program is free to download, and users can use it to improve a limited number of photographs for free. There are certain limits, however, such as a lower resolution output and a watermark on the enhanced photographs. Users can subscribe to Remini's premium membership, which is accessible monthly or yearly, to have unlimited access and remove the watermark.
Topaz
Topaz is largely a desktop software solution available for both Windows and macOS. Its portfolio has several software packages, each with a unique pricing structure. Topaz goods are normally offered as individual licenses, with varying prices depending on the product and any active specials or discounts. Topaz, from time to time, provides bundle discounts or membership plans that enable access to numerous products at a reduced price. Topaz's price plan may be more appropriate for those who have extensive editing tools and are prepared to spend on a desktop software solution.
Topaz offers desktop software with multiple pricing options for individual items or packaged packages. At the same time, Remini is a mobile app with a free edition and a subscription membership for unlimited access. Before making a decision, it is recommended that you check the pricing data on their official websites and evaluate your unique requirements and budget.
FAQs
Conclusion
Both Remini and Topaz have their worth, so choosing between them comes down to personal taste and requirements. Remini could be an excellent alternative if you prioritize automatic picture improvement with an emphasis on recovering old or damaged photographs. Topaz, on the other hand, offers a more extensive range of editing tools for individuals who want a more hands-on approach to image modification.